Hello dear mama, and welcome to week 47 of your pregnancy journey, and yoga practice!
Weekly Pregnancy/Baby Update
The fog of the first weeks and the "baby blues" may begin to lift now! If you continue to feel very depressed or anxious past 4-6 weeks postpartum, talk to your provider about postpartum depression and anxiety and treatment options.
Chair – goal post
Expand your heart, and open and stretch your chest as you inhale. This posture can also be helpful after hunching over for multiple daily feedings.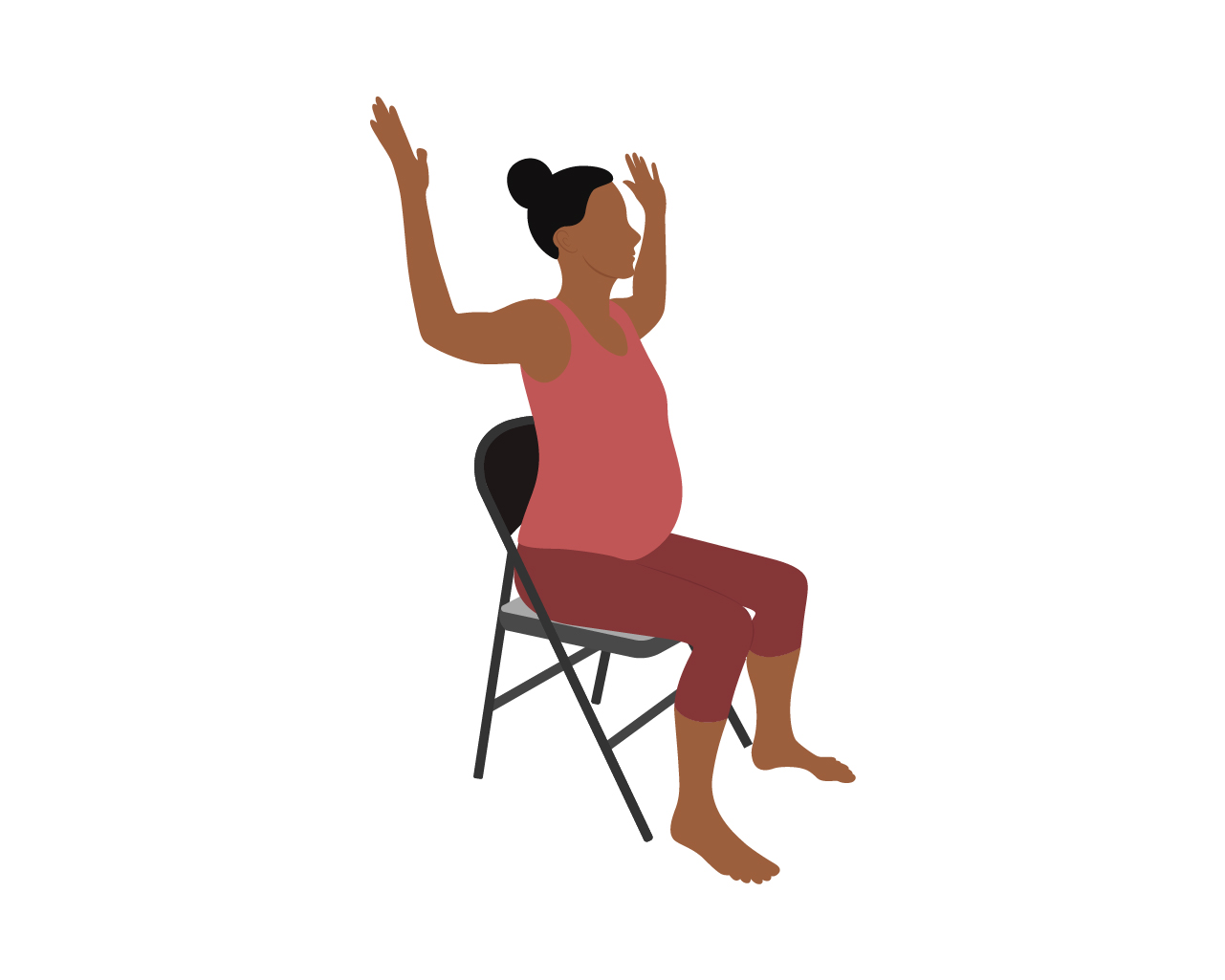 I loved about 10 minutes of movement on days when I didn't feel like doing much. I created this class with the first trimester in mind (those it's appropriate for all trimesters with modifications) because I was SO tired, I couldn't do much more than a quick 10 minute, easy class. **Did you know – most women experience the most amount of fatigue in their first trimester?!** This was news to me! I figured I'd be most exhausted in my third trimester, but not so much! In the first trimester our bodies are working SO hard, doubling cells every single day. The baby grows SO fast, of course this takes a lot out of us. So I slept as much as I could (sometimes 12 hours a day!), but I still enjoyed getting on my mat for very easy practices, like this one. I also experienced a bit of nausea and I always felt better when I went for a walk or met my mat for even a few minutes of breathing and simple postures.
*I am constantly updating recommended classes as I add more yoga classes to my YouTube library! Check back often for updates!
**Every body, woman, practice, and pregnancy is different. If the suggested class for this week does not suit you this week for any reason, please feel free to look for a different one on my YouTube channel. Trust your body and listen to your birth team!
Look at your new life from afar, after a couple of weeks. What do you love about this postpartum period? What is difficult? Explore the happy and sad, the joyful and hard moments of new parenthood.
Please feel free to share your responses below, so we can all help each other on this journey!